It is tuesday again and time for another challenge at Top Tip Tuesday. I can't believe it has already gone two weeks since our last challenge. We have a lovely new challenge for you, but before I tell you about that I want to thank those of you that played along with our Focus on the ribbon challenge. If you played along and are wondering if you are our winner for that challenge, you got to go check our challenge blog.
So for this challenge we have a One layer card theme. Scary for some of you maybe... Well including me I might add;) LOL. Then I got to think about how fun it would be to be challenged into something absolutely new for me that looooves those layers;)
Our sponsors for this challenge:
Simon Says Stamp
Simon Says Stamp is offering a $20 gift voucher to spend in their store!!
In business since 2002, Simon Says Stamp is striving to offer you the best selection of Rubber Stamps, Altered Art, Scrapbooking, Artist Trading Cards, and Paper Crafting Supplies in the world. We stock over 100,000 items in our warehouses so that we can offer you quick service and one stop shopping at a great price!
Happy customers are the heart of our business.
We work hard to find and deliver to you the latest in stamping and paper crafting supplies! Attending classes, workshops, and sales meetings around the world, our goal is to keep our product offerings fresh and current. Make us your one stop easy shop - and we'll deliver right to your door!
&
Robyn's Fetish!
1 Lucky winner 4 stamps of their choice!
Robyn's Fetish Digital Stamps And More is proud to sponsor this challenge.
Robyn's Fetish Digital Stamps And More, a division of I Did It Creations, was created and is
owned by Robyn Weinrib. Robyn offers a wonderful variety of digital stamps and digital papers, designed to meet the needs of all digital paper crafting addicts for every occasion.
&
Fred She Said $20 voucher!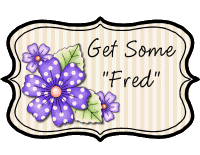 Tracey from Fred She Said says:
Fred She Said Designs offers a wide variety of digital products with a floral flair and cute characters too - Digi's, Pre-coloured images, Papers, Sets, and Fred's Flower Kits. Have some fun with Fred!

So what is stopping you?? I forgot to tell you that our lovely Deneen is hosting this challenge and o boy she's been creative with those one layered card theme. Please stop by to see her inspiring tutorial;)
So here's my project for this challenge, please bear over with me... this is my absolutely first attempt to make these kinda cards:)
My recipe:
White cardboard
dry embossing( although it probably don't show that much;))
Marker pen to set the frame
Sentiment from crafters companion
My image is from Robyn's Fetish and is called An elephant never forgets. It's coloured with these promarkers: umber, warm grey 5,3, blossom, blender and ice grey 1.
Now I hope I've inspired you to have a look into
our challenge blog
to see what my fabolous teamies have made for this challenge!!
I'll deliver for these challenges:
Forever Friends Challenge:
Something new
( new stamp and new teqnique- one layer)