Before I tell you about our new challenge I want to thank all of my followers that are leaving such lovely comments in my blog. I am sorry I haven't been around as much as I should lately, but I've had some crazy times going on lately. I will be around as soon as thing calm a bit down over here, and look into your lovely blogs to leave you some love back. I have not forgotten about you!!
It is wednesday again and it has already gone two weeks since our last challenge. I can't believe how fast time flies when you are having fun;) It is finally time for a new challenge here at ABC Christmas Challenge;) Before I tell you about our new challenge I want to thank every one of you who played along with our P for Paper Piecing Challenge. I absolutely loved all the entries and personally I found that challenge very delightful.
If you played along and are wondering if you are our winner, then you really should check into our challenge blog!!
Now here we are with a new challenge for you to enjoy. This time around we want to see Q for Quilting. Have a go at making patwork background of paper. Use your imagination, it can be stitched together or just pieces of patterned paper or cardstock in different colours cut and put together to make a quilt.
Our Fabulous Sponsors are:

and we also have the Fabulous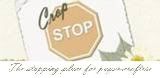 Prize -

$15 gift certificate
If you're passionate about paper-crafting whether it be scrapbooking your memories, making cards or altered art, CropStop is your one-stop solution. We offer an extensive selection of dies, embossing folders, inks, stamps and punches by all the popular manufacturers and the CropStop die and embossing folder storage solutions Pocketz Pages™ to keep everything organized. Our selection of embellishments and adhesives is continually expanding and we are excited to be the home of the colorful Ribbon Candy™.
In need of inspiration? Visit the CropStop Gallery, Blog or Message Board and participate in a competition or class. If you have questions concerning your machine, we have a team of experts waiting to help you.
CropStop ships internationally as well as domestic. Our personalized customer service is only one of our strengths. Call or come visit us atwww.CropStop.com and see what's new in the world of paper-crafting.
My project for this challenge looks like this:
(will add a better photo after work tomorrow)
My recipe: red, green and kraft bazill
DP from Ladybug, and papirdesign
Flowerribbon
Sentiment from LOTV
Embossed
Distressed edges
Shabby shutters and vintage photo D.I
My image is from
Whoopsi daisy
new scene range. I absolutely love her new christmas range and they are so versatile too;) I've coloured it with these promarkers: ivory, blush, tan, dusky rose, burgundy, crimson, poppuy, marsh green, moss, pear green, cinnamon, sandstone, caramel, primrose, ginger, sunflower and ice grey 1.
Now I hope I've inspired you to have a look into
our challenge blog
to see what my talented teamies have made for this challenge!!
I'll deliver for these challenges